The Director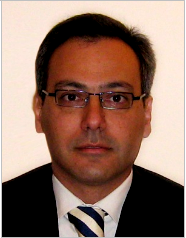 Yiorghos Leventis, Ph.D., is Director of the International Security Forum independent non-for-profit think tank based in Lefkosia, the capital of Cyprus. Dr Leventis studied in the U.K, where he conducted extensive research in The National Archives.
Dr Leventis read B.A. in Economic & Social Studies, University of Manchester (1990), M.A. in Peace Studies (1992) and Ph.D. in European Studies, University of Bradford (1998). He had been a Visiting Research Associate,  King's  College, University of London (1999-2000) and an External Research Associate of the Hellenic Foundation for European & Foreign Policy (1999-2000).
During the years 2004-06 he was based in Tokyo sponsored by the Japanese Society for the Promotion of Science (JSPS) for a Visiting Scholarship at the National Graduate Institute for Policy Studies (GRIPS). At the same time he was JSPS-UNU Postdoctoral Fellow in the Peace & Governance Programme, United Nations University, HQ, Tokyo.
He was Associate Professor, Faculty of International Relations, Politics and European Studies, New York University Skopje, FYROM (2006-08). In March 2008 he was appointed Honoris Causa member of the Working Group on Security & Guarantees in the bi-communal talks aimed at a comprehensive settlement of the Cyprus Problem.
Dr Leventis was also elected by large majority a Council Member of the World Federalist Movement (WFM)at the Annual Council Meeting in Buenos Aires (October, 2010). In 2012 he was invited to join as a member The International Institute for Strategic Studies (IISS, London) and he has been a member ever since participating in the latest Global Strategic Review (Stockholm, September 2013).
As the International Security Forum Director, Dr Leventis is member of the EU Non-Proliferation Consortium (est. 2011) and he is also the appointed Cyprus Representative of the Campaign for the Establishment of a UN Parliamentary Assembly (CUNPA) since 2012.
Since November 2011, Dr Leventis has been the Chief Advisor of the Metropolitan Bishop of Kyrenia Chrysostomos on Interreligious and Intercultural Dialogue.
For the past twenty years, Dr Leventis has been lecturing and publishing worldwide on a broad range of issues: energy security, governance, power sharing, geopolitical and geostrategic matters as well as on regional and global security issues.
---
Mission Statement
The International Security Forum is a non-profit independent global think tank registered in Cyprus since 2009.
It is concerned with regional and global peace, security and governance issues. Inter alia, the ISF-CY participates regularly in the sessions of the EU Consortium on Non-Proliferation Studies since its inception in Brussels, 2011. 
---
Research Associates
William Mallinson, a former British diplomat, is an Athens based scholar of International Relations and Diplomatic History. He is a prolific author and commentator on Anglo-Hellenic relations, the Cyprus conflict and wider security issues in the Eastern Mediterranean - Middle East North Africa region. He teaches at the Ionian University, Corfu, Western Greece. Dr Mallinson has written a fast-moving and incisive narrative history of modern Cyprus (Cyprus: A Modern History, I.B. Tauris, London - New York, 2005). Public Lies and Private Thruths features among his other published works.
Atul Menon, an Indian national, is graduating in International Studies at Simon Fraser University, Vancouver, Canada. He specializes on International Security of Conflict. He is currently an editorial assistant with the Canadian Journal of Development Studies (CJDS) and interned with the International Security Forum, Cyprus in the summer of 2012. Additionally, Atul is currently mid-way through his honor's thesis looking at the Ethico-Legal and Practical Dimensions of NATO's intervention in Libya, vis-a-vis the Responsibility to Protect (R2P) Doctrine. He is interested in strategies by which the gap between the theoretico-normative-discursive progress achieved by the R2P and the problems that surface as a result of implementing R2P in practice. Additionally, his other areas of research interest include the changing nature of the Asia-Pacific Security Paradigm, Arctic Security Issues, the state and security issues related to population management.
Morris Mottale
Zoran Ristic holds a B.Sc. degree in Management and Economics, Empire State College, SUNY and an M.A. degree from King's College, University of London, U.K. Research interests include political economy of war and conflict, FDI in emerging markets, corporate governance, risk analysis and South East European interstate relations and conflicts. Zoran is based in the British capital.
Aviva Zimbris is a Country Risk Analyst with French, Spanish and Hebrew language skills, and with varied experience of research and consultancy work in the energy, defence and security sectors. She received her Bachelor in Government, Diplomacy and Strategy from the Interdisciplinary Center Herzliya, Israel and her Master's degree in International Conflict Studies from King's College, London in 2010. She is currently based in France.
---
Research Assistants